Include the following in your basic character sheet:

Name:
Age:
Race:
Gender:
Affinity: (Good/Neutral/Evil)
Basic Appearance: (Can use a picture if you want)
Strengths:
Weaknesses:
Equipment/Weapons:
Special Abilities: (If applicable - human characters won't have these)
Admin




Posts

: 6


Join date

: 2014-03-29



Name: Antonietta
Age: mid-twenties
Race: german and japanese descent
Gender: female
Affinity: evil as all fuck
Basic Appearance: tall, lean, pale, green eyes, wearing dom gear (aka corset, knee high boots, etc) but non-constricting so they're not limited in deadliness, long black hair, flowing henna tattoos down shoulders, arms, legs,
Strengths: able to take strong leadership of other evil bruno alternates through force of character, knowledge of martial arts, true psychopath
Weaknesses: connection to shota!bruno, hesitant to commit to plans that might cause him injury
Equipment/Weapons: favorites are a whip and a long knife, but will use firearms if it comes to that
Special Abilities: really flexible so her high heels are deadly
Last edited by hatman17 on Wed Jun 18, 2014 11:41 pm; edited 1 time in total
Name: Roark
Age: late 30s
Race: irish
Gender: male
Affinity: evil
Basic Appearance: think grizzled sea captain, complete with beanie. no missing limbs
Strengths: tough, high endurance, very strong, good with knots and other seafaring skills (not that those will come up)
Weaknesses: no formal combat training, not proficient with a gun but will use a hunting rifle if need be
Equipment/Weapons: fishing spear, hook, club, occasional rifle
Special Abilities: N/A
Angel Turan
18 Years Old
Human Female
Caucasian/Native American Mix
Neutral-Good Affinity
Strengths:
· strategist
· leadership qualities
· knowledge of the supernatural
· intelligence and street smarts
· decent skill with projectiles and small weapons
· basic first-aid knowledge
Weaknesses:
· prone to being over-emotional
· slow/not flexible or acrobatic
· easily frustrated
· limited knowledge of guns and sword-wielding
Equipment:
· set of throwing knives and shurikans
· first aid kit
· notebook and pencils
· matches
· emergency fire-escape floor plans of the hotel
· smart phone
· wrist watch
· small set of cups and bowls
Appearance:
Will be wearing the basic leather uniform given to her at the start of the Games.
Last edited by Angel on Thu Jun 19, 2014 12:56 am; edited 4 times in total
Name: Alpha (real name Tim)
Age: early twenties
Race: chinese human
Gender: male
Affinity: neutral (working for antonietta)
Basic Appearance: pale, messy shoulder length black hair, glasses, not much muscle mass, always with laptop bag and other technologies, torn up jeans and old t-shirt
Strengths: excels at hacking, is one of the reasons the capital can't get in, has hacked into the field of the games and can control several tracks of land, including traps and supplies
Weaknesses: no combat skills or volition to fight
Equipment/Weapons: laptop, tablet, various gizmos for hacking into mainframes
Special Abilities: (N/A)
Name: Bruno Greselin
Age: 18
Race: Chinese/Italian human
Gender: male
Affinity: bit of all three really, but let's go with good
Basic Appearance: you know what i look like, that, plus some more scars because we've been fighting for three weeks
Strengths: intelligent, basic first-aid, small knowledge of chemistry and how to break technology given half the chance, black belt in karate, whatever bladed weapons training they gave him during training
Weaknesses: still human, not an expert at martial arts by any shot, submissive, prone to trusting, emotional
Equipment/Weapons: a couple knives, hatchet/tomahawk, pistol (from government when shit hit the fan),
Special Abilities: fiercely protective of his friends creates a pissed off mode that increases endurance slightly
Chu
18 Years Old
Dusk (Dragon) Elf Male
Caucasian/Japanese Mix
Neutral-Good Affinity
Strengths:
· knowledge of the supernatural
· decent intelligence and street smarts
· very skilled with swords, scythes, and blades of any kind
· inhumanly agile, flexible and in-control of his body
· has a pet dragon (Chi) that can shape-shift into larger serpentine creatures
Weaknesses:
· not the type to plan or create strategies
· jumps into things headfirst without thinking much, unless held back
· prone to bursts of anger if threatened
· can be prideful
Equipment:
· twin katanas on his hips
· set of throwing knives
· hand gun for emergencies, although he does not prefer to use it
· smart phone  
· tools for lock-picking
Appearance:
· very tall and thin, semi-muscular (swimmer's body)
· covered in rune-like markings
· also covered in areas such as the back of the neck, shoulders, hips, hands, feet and around the eyes by multicolored scale-like patterns that blend with his skin
· will be wearing an outfit very similar to the basic Hunger Games uniform
Last edited by Angel on Thu Jun 19, 2014 1:23 am; edited 3 times in total
Name: Sh'ayk
Age: early twenties
Race: albino african
Gender: human
Affinity: evil as all hell
Basic Appearance: always smiling, tall, very curly tight cropped hair, covered in blood splatters, wears a leather sleeveless waistcoat and jeans,
Strengths: stronger and faster than any regular human, excellent with knives, expert torturer and general scary person
Weaknesses: does not particularly care about missions or the grand design, just wants to kill and keep killing. works for antonietta simply because she has promised him prey and provided some. inflated ego from successes makes him arrogant and likely to over-estimate self
Equipment/Weapons: knives. tiny or huge, he's got lots of them
Special Abilities: takes joy from pain, so nearly impossible to beat in a regular fight
Seraphim Winters
Late Twenties in Appearance
Female Shinigami
Caucasian
Truly Evil, but feigns a Good Affinity
Strengths:
· Current acting president, controls the government and the games
· extremely intelligent
· sneaky and secretive
· can feign sweetness and concern very convincingly
· master of deception and manipulation
Weaknesses:
· has general influence over the alternates, but they can be hectic and difficult to control
· is very prideful and egotistical, believes she cannot be bested
· is not a very good listener and can have limited patience
Equipment:
The government and game makers are her arsenal.
She can have whatever she desires at the snap of a finger.
Appearance: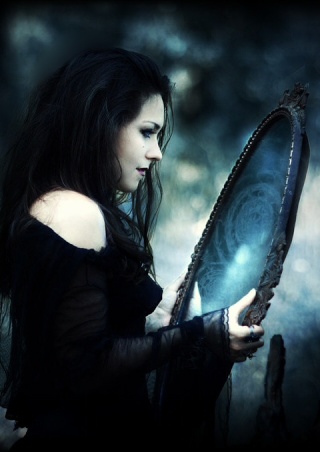 ---
Permissions in this forum:
You
cannot
reply to topics in this forum